Complex Custom Molds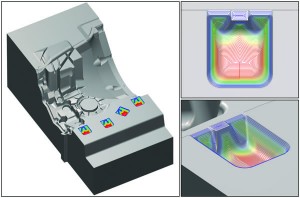 MGM Manufacturing provides an array of high quality custom-made molds for small and simple components as well as complex large components to various rubber, plastic and metal injection companies. Our quality molds are manufactured specifically for both our customers' small and dedicated long-run production projects. We pay close attention to detail and employ a manufacturing discipline to create precision molds that provide you the customer with the benefits of interchangeability of such components. These long term benefits enable MGM to furnish our customers with lower maintenance costs, longer mold life, and more consistent product quality.
Some our mold making capabilities include producing; multi-cavity molds, unscrewing molds, closure molds, hot-runner molds, spin stack molds, plastic container molds, thermo-plastic molds, rubber and silicone injection molds and metal injection molds. MGM's molds over the years were utilized by our customers to produce their automotive components, dental instruments, electronic heat sinks and hermetic packages, electrical connector hardware, industrial tools, fiber optic connectors, fluid spray systems, hard disk drives, pharmaceutical devices, power hand-tools, surgical instruments, and sporting equipment.
We welcome you to send us your inquiries and mold making RFQs to sales@mgmmfg.com